Standard Accessories:
LED Sidecar Fog Lights
Sidecar Power Outlet
Sidecar Tonneau Cover
Gas Tank w/ Built-In Storage
Jerry Can
Utility Shovel
Luggage Rack
Universal Spare Wheel (Fits All 3 Positions)
749cc:
Our bikes are happy cruising between 65 and 75 mph. Our 749cc engine combined with powerful low end torque is the perfect size to compliment the steering dynamics of our all steel sidecar.
Reverse Gear:
In addition to a 4 speed transmission, every Ural comes with a mechanical reverse gear.  Reverse can be engage by the foot pedal to the right of the rear brake.
Off-Road Package
Upgrade your Ural Gear Up Sahara with our premiere off-road package.
LED Headlight
Givi Windshield
Sidecar Light Guards
12V Adapter
Sidecar Nose Rack
Fender Rack
Hand Guard
Rear Sidecar Bumper
Light Rock Guard
Spotlight Rock Guard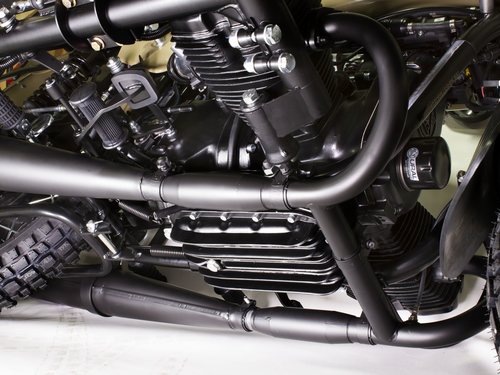 Upgraded Exhaust
Complete your Ural Gear Up Sahara with our black ceramic coated exhaust for increased durability and pristine finish.
Black Ceramic Coated Exhaust